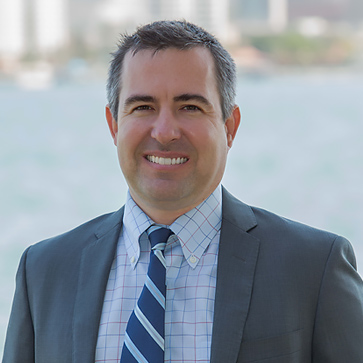 Geoff Spreter
Founder & Attorney
Geoff J. Spreter received his Bachelors of Science in Business Administration, with an emphasis in Finance, and post-baccalaureate certificate in accountancy from San Diego State University. Mr. Spreter subsequently became an analyst for LPL Financial, a national brokerage firm. He then went on to attend University of San Diego School of Law, where he studied business and tax law.
Following graduation, Mr. Spreter became an associate attorney with the Law Offices of Alexander M. Schack, where he concentrated his practice on consumer fraud, mass tort, and antitrust litigation. He served as class counsel, resolved several consumer class actions, and tried an investment fraud case to verdict his first year in practice. For these accomplishments, Mr. Spreter was named as one of the "Top Young Attorneys" in San Diego by the San Diego Daily Transcript, for 2010. Mr. Spreter also argued before the Fourth District Court of Appeal, Division One, which resulted in the published opinion MKJA, Inc. v. 123 Fit Franchising, LLC (2011) 191 Cal.App.4th 643.
In 2011, Mr. Spreter formed Spreter & Petiprin, APC. Mr. Spreter and his firm were actively involved in litigating the 2007 San Diego Wildfires matter. This litigation lasted over 8 years, and resulted in more than $2 billion in settlements. Mr. Spreter represented over 300 clients, resulting in over $55 million dollars in settlements. The San Diego Superior Court appointed the firm as the Single Enterprise Liability Discovery Coordinator during this action. As part of the Single Enterprise Liability team, Mr. Spreter personally deposed twelve senior Sempra Energy and SDG&E corporate officers, including the President, Chief Financial Officer, and Director of Corporate Strategy for Sempra Energy. His firm was also named to the trial team in this matter. Spreter Law Firm also worked extensively on Rancho Guejito Corporation, et al, v. San Diego Gas & Electric Co, et al. A case involving 23,000 acres and over $100 million in damages. In 2013, his firm was appointed as co-lead counsel in the 2011 Caughlin Ranch Fire Litigation, which resulted in a confidential settlement with NV Energy, resolving the claims of 57 fire victims.
In addition to mass tort litigation, Mr. Spreter also has extensive experience in complex consumer fraud and antitrust cases. He has served on committees and discovery teams on the following cases: In re Bayer Corp. Combination Aspirin Products Marketing & Sales Practices Litigation; In re: TFT-LCD (Flat Panel) Antitrust Litigation; In re: DRAM Antitrust Litigation; Joel I. Ross and Thomas Santos v. Honeywell International, Inc. et al; Branning v. Apple Computer, Inc., et al.; Kleen Products, LLC, et. al. v. Packaging Corporation of America, et al.; Wallace, et al. v. High Tech Marketing, Inc. et al.; Hine v. Scottrade, Inc.
Mr. Spreter has also arbitrated matters involving legal ethics and business formations. He is currently arbitrating a matter involving a breach of fiduciary duty and theft of trade secrets by corporate officers of an MLM company.
Mr. Spreter is admitted to practice in California and the U.S. District Court, Southern District of California, Central District of California, and Northern District of California.